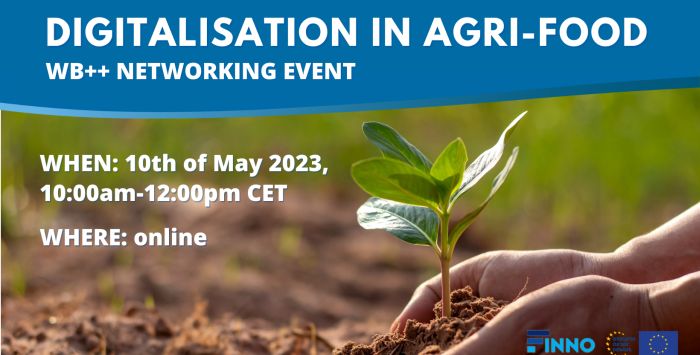 Interested in the topic of digitalization in agricultureno-food sector? Want to know what solutions are offered by selected IT companies from the region?
Participate in the online event Digitization in the agri-food sector, WB++ (West Balkans +Slovenia +Croatia) 'pitch-match' which will be held on 10. 5th 2023 from 10 a.m. to 12:00 a.m.
Participation is free of charge, you need to register via the application form.
Why participate?
•The opportunity to see digital solutions from the region that can be useful for your business,
•Promoteyour company and your own solutions in this area,
•Meet companies from the region,
•Connect,
•Find future partners for your business.
•Find out how Enterprise Europe Network (EEN) and finno platform can help you grow your business.
Event WB++ is a joint initiative of partners from the Western Balkans (+Slovenia +Croatia) with the aim of connecting companies and strengthening partnerships and connectivity in the region.
The Enterprise Europe Network network is made up of nearly 600 partner organizations and institutions, provides excellent contacts in 54 countries and connects over 3,000 experts from various fields locally and internationally. The FINNO platform offers free consulting services for funding sources for innovation, business internationalization and business growth.