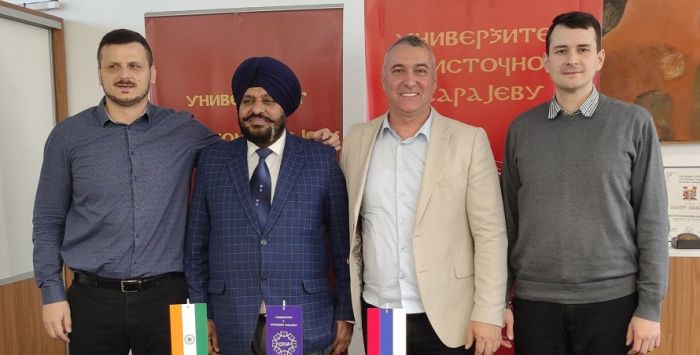 Representatives of the Faculty of Electrical Engineering (ETF) of the University of East Sarajevo and the Agency for Studying Residents of India Abroad agreed to promote this faculty in India in the coming period, and to present how many students would like to study ETF in English in this city.
Dean of ETF in East Sarajevo Bozidar Popovic told Srna that in July last year they signed an agreement with a partner company from India, whose representatives visited this faculty today, after examining the market and the interest of their graduate high school students for admission to technical faculties in an earlier period.
He added that the delegation was led by the Director of the Agency for Studying Residents of India Abroad, Bhagwan Singh.
"We have to translate our study programs into English and get confirmation from the Senate of our University of East Sarajevo so that we can start organizing studies in English from the next academic year," Popovic pointed out.
He noted that during the last year they worked on establishing international cooperation and finding partners who are interested in seeking students abroad on behalf of the ETF who would like to study at this faculty in East Sarajevo.
Popovic pointed out that last year they established ties with similar agencies in Greece, and with Spain, which is also interested in co-operation.
"We believe that it is necessary for all faculties in Republika Srpska to turn towards the international market, i.e. to enable and create conditions for students from other countries to study at our faculties," Popovic said.
Popović pointed out that the goal is to take advantage of the positive experiences of the Faculty of Medicine in Foca, which earlier started organizing studies in English, which, as he assessed, would contribute to the internationalization of the ETF and its visibility.
Popovic reminded that the ETF already has established international cooperation, i.e. that their students go to study at universities in Spain/Balearic Islands, Hayne/, Poland/Technical University in Bialystok/, Turkey/Aksaray University/, Hungary /BME Budapest University/ as well as the University of Niš, Serbia.
"In addition to the outgoing student exchange, we also have incoming ones. We had a colleague who was with us at the master's study of informatics from Turkey, and we currently have a colleague from Serbia in the final year of the study program Computer Science and Informatics. We will also try to establish an exchange program for our students with neighboring Croatia and Austria," Popovic said.
He also noted that exchanges of teaching staff of this faculty who went to Hungary, Poland, Spain, Turkey were organized, and in the process of signing agreements with three universities in Japan, and possible cooperation with colleagues from the United States.
Popović also pointed out that from year to year the number of enrolled students is decreasing, who leave these areas for various reasons, and the goal is to keep them here.
He believes that it is necessary to enable young people to get employment after completing their studies, because the construction of all institutions and the Republic of Srpska should remain on them.
Srdjan Lale, Vice Dean for Teaching at the ETF of the University of East Sarajevo, told Srna that one of their main goals is to build international visibility, recognition and renown.
"Internationalization and international visibility of faculties is currently one of the main activities in the region, Europe and the world and everyone is turning towards it. It's not just about the exchange of students in which we have been actively participating in the last few years, this is something completely new. In parallel, classes in the first cycle of studies would be conducted in English in all study programs," Lale pointed out.
He suggested that these would be full-time studies to be conducted in English for students from abroad.
Lale points out that prestigious universities that are highly listed in the world rankings do not have regular studies that take place in English, and expressed hope that, apart from the Faculty of Medicine in Foča, ETF will be one of the pioneers of this development in this region.
He believes that this is one of the ways to fight for young people to study and stay in this area, especially if students from abroad study here, because they recognize the quality and effort of the teaching staff of this Faculty, and notes that their graduate engineers quickly find work both in the country and abroad.
Source: Srna